Prōpāgandus
A Letter from the Editor-in-Chief
The Speculative Grammarian Tad von Thessperpool Memorial Archives Building—constructed over the last decade to prevent the return of the SpecGram archive to a state of "tatters"—is a truly astounding bit of architecture. Unfortunately,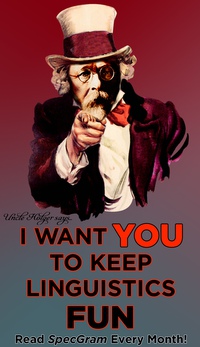 the architecture firm hired to design it had a small mix-up on Let Your Brat Come In and Lower the Quality of Your Work Day℠, which resulted in certain... features... that would perhaps be more fitting in a low-quality Indiana Jones rip-off than in a sanctuary of higher learning.
As a result, the Thessperpool Building is, shall we say, not fully OSHA compliant. When an intern is sent into the archives, a rope is tied around their waist to increase the likelihood of retrieving them, or at least their torso. No employee above the level of an Assistant Satirist is allowed to enter the archives, as the risk to life and limb is too great, according to the SpecGram Undersecretary (Legal) for Personnel. Minor loss of interns is acceptable.
During a recent foray into the archives in search of receipts in support of an overdue audit of "entertainment expenses" submitted by the Nauruan Editors-in-Exile in 1888, catastrophe struck. One of the "defense systems" in the Thessperpool Building engaged, quickly filling the file room with sand and scarab beetles. Several members of the intern expedition escaped, and while they failed to procure the required receipts—for which there were appropriate floggings—they did pull out a sheaf of early 20th century SpecGram propaganda posters, which were used during the Great Linguistic War and the Second Linguistic War to encourage linguists everywhere to keep a stiff upper lip and a sense of humor during those trying times.
While the remaining contents of the Top Secret SpecGram Time Capsule from 1964 are stuck in legal limbo, the SpecGram Archive Elves™ will undertake a project to digitize and share the recovered propaganda collection before sending it back into the archives for long-term storage.
Two or three posters at a time will be released in future issues of SpecGram—starting with this one!—and the collection-to-date will be available online, under the auspices of the newly reconstituted SpecGram Ministry of Propaganda.