/vɝnənz

viː eɪtʃ ɛs vɔlt/




—Presents

for Auction—


Micro-Commando

Diachron-5
The one and only /vɝnənz viː eɪtʃ ɛs vɔlt/ is pleased to present another rare and valuable VHS tape for auction!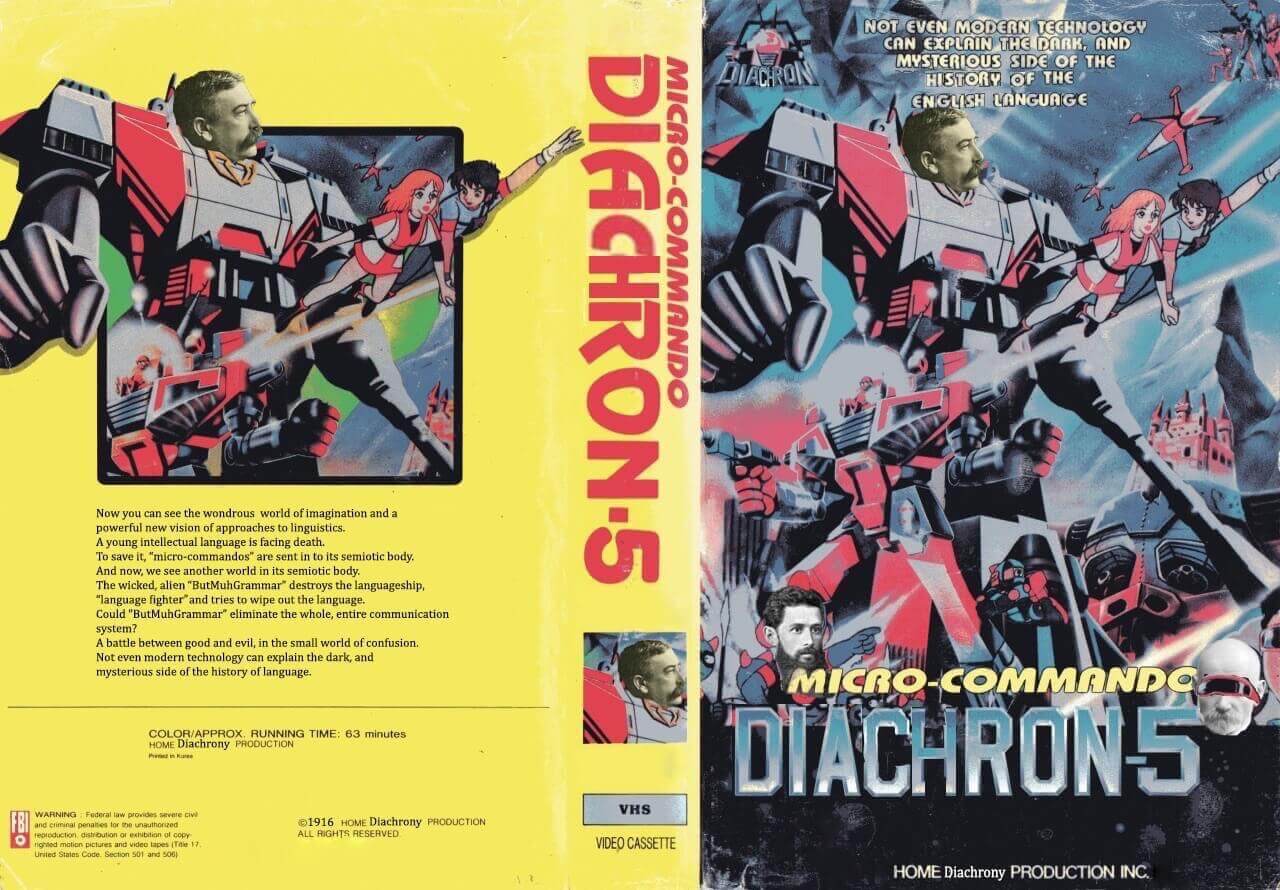 From the back cover:
Now you can see the wondrous world of imagination and a powerful new vision of approaches to linguistics. A young intellectual language is facing death. To save it, "micro-commandos" are sent into its semiotic body. And now, we see another world in its semiotic body. The wicked alien "ButMuhGrammar" destroys the languageship, "language fighter" and tries to wipe out the language. Could "ButMuhGrammar" eliminate the whole, entire communication system? A battle between good and evil, in the small world of confusion. Not even modern technology can explain the dark, and mysterious side of the history of language.
From the idiosyncratic, idiomorphic, and idiolectic VHS congeries of elusive, exclusive, and elative A/V collector Megan Stevens comes...
Micro-Commando

Diachron-5
This artistic, linguistic, anachronistic classic of animation from 1916 will be presented on the auction block at 9:33 a.m., January 6, 2020, at the Hilton New Orleans Riverside. Bidding is expected to start at $3.4M.
Stop by our table at the 94th Annual Meeting of the LSA!!
*~*~*~*
[vveɛv]—One of the oldest and most venerable VHS auction houses in all of linguisticdom, /vɝnənz viː eɪtʃ ɛs vɔlt/ has brought to auction some of the most unique and valuable VHS tapes of all time, including the /ʃlɑkiɛst/ of the /ʃlɑki/—
Tomb of the Undeciphered Writing System • The Dark Vowel Hunter •
The Legend of Trillbilly John • Hollywood Chain Shift Hookers •
Cannibal Rolled-R Babes • Pterodactyl Woman From Alveolar Trills •
Tales from the QuadeaD Zamucoan • Texas Chain Shift Massacre •
Death Cursive of Tartu • Revenge of the Mysterons From Marrku–Wurrugu
—and the /fæmɪliɛst/ of the /fæmɪli/—
Sonorant of the South • Alice in Wanderwortland •
Snow Whitespace and the Seven Whorfs (Black Diaeresis Edition)
Discernin' collectors satisfy their burnin' yearnin' for VHS with

/vɝnənz/

!