ADVERTISEMENT
Linguistic Fortune Cookies
Restaurateurs—and their etymologically erroneous cousins, restauranteurs—know that having a location near a linguistic departments can be... complicated. Linguists have an annoying habit of trying to pronounce menu items in languages they don't know, for example. On the other tongue, they are surprisingly good tippers—possibly because linguistics attracts kind-hearted people, or perhaps because it attracts people who are bad at math and afraid of appearing socially awkward.
Linguists also, if we're being totally honest here, don't really get a lot of validation from the general public—which makes them easy marks easy to impress with custom, linguistically-themed merchandise. However, since linguists also tend to be poor, your best bet is to inspire brand loyalty with inexpensive linguistically-themed items.
Our team of crack Linguistics Anthropologists* has determined that our first linguistically-themed foray into the burgeoning field of linguistically-themed food production should be linguistically-themed fortune cookies. An example cookie and a sample of fortunes are provided below.
We also suggest you stock copies of McCawley's Eater's Guide to Chinese Characters near your cash register.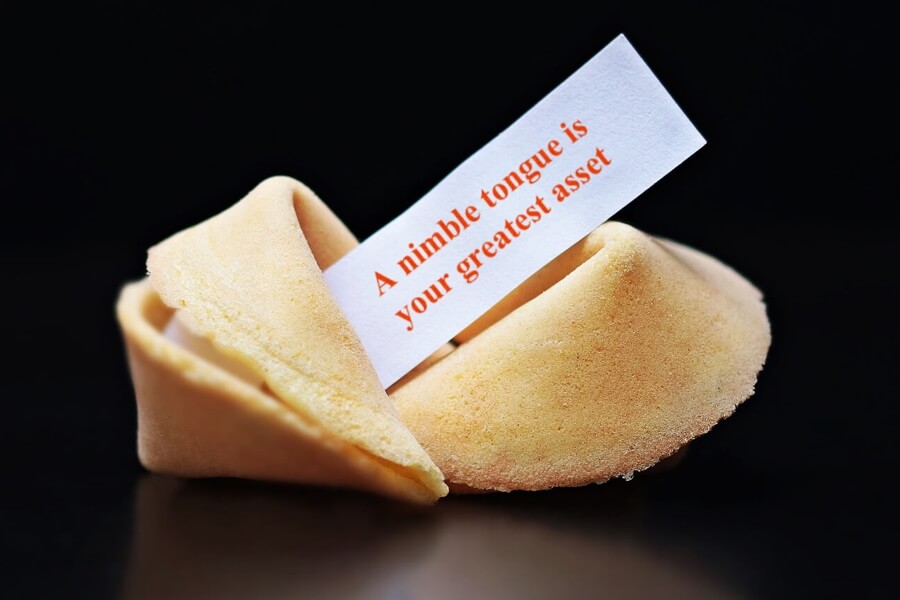 Two small papers are sometimes better than one big book.
People who disprove your theories can be labelled narcissists or drunks.
Tenure is the door to freedom, and subservience to the authorities is the door to tenure.
If asked how many languages you speak, reply π, but offer no further comment.
Your work will be misrepresented in popular articles.
A wise man says little during departmental seminars and even less during his viva.
You will prosper in the world of rootless abstractions.
Who needs tenure, anyway?
If your expenses are not extravagant, they might be reimbursed in the fullness of time.
Tenure can turn an apartment into a golden palace.
Today's linguistics is tomorrow's philology.
Your hard work will be seen by an angry reviewer.
Funding comes and funding goes, departmental politics is forever.
Very few linguists can tell the difference between narcissists and drunks.
When in doubt, rely on native speaker intuition.
Stop theorizing. Start eliciting.
A new voyage will fill your notebooks with publishable data.
A committee appointment cannot be avoided.
Collegiality: The soil that allows our individual mediocrities to flourish.
Those who nap through colloquium ask no questions.
The yin and yang of a linguist's life: you must be both an authority on prescriptive language and a defender of descriptivism.
You will rewrite many chapters before submission.
Alcohol can make the informant's words flow freely, but deciphering your notes can be a second headache.
Learn Chinese Characters! We also offer academically-themed Chinese lessons on the back of each fortune:
考试还没评完分。—The tests are not graded yet.
系主任就是你!—The Department Chair is: You!
工作时间今天取消。—Office hours canceled today.
语言学确实科学。—Linguistics Truly is a Science.
发表或死掉!—Publish or Perish!
---
* That's Linguistics Anthropologists—i.e., anthropologists who study linguists, linguistics, and their hangers-on. Also, when we say crack Anthropologists, we mean crack as in excellent—not to be confused with Crack Anthropologists, who study cocaine and cocaine users, and who are generally much more energetic than most other anthropologists.