To Shreds,
You Say?


The Impact of Poly-Catastrophic Mountaineering on Advances in

Topographic Linguistics
The "J. Farnsworths,"
Hubert & Cubert


(feat. Owrt-Eames

N. Tadders)


X. Quizzit Korps

Center for

Advanced

Collaborative Studies

Back in 2013, Caleb Everett unveiled reports of fieldwork indicating that glottalic airstream mechanisms correlate with elevation: that is, ejectives are found in languages spoken way up high. We at the X. Quizzit Korps Center for Advanced Collaborative Studies immediately found ourselves wanting to correct the more egregious errors in this research (or, at least, in the popular press's reporting of it, as we had not actually read the original work ourselves).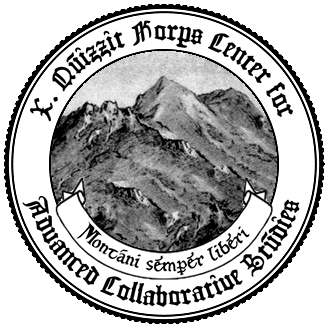 To wit: Everett's claims are not too far off, for what he reports, but he fails to mention a whole lot. Yes, glottalized consonants are indeed common at high elevations. Yet, we had heard reports that, at even higher elevations, we'd find even more interesting phonation types and correlates.
We knew that identifying and describing those would entail years of arduous fieldwork in the world's highest speech communities. What we did not anticipate was the loss of every single team we sent into the field to mountaineering incidents: falling onto rocks below, falling rocks from above, avalanches, slipping on snow, slipping into crevasses, rappel failure, chock failure, piton failure, crampon failure, lightning strikes, snake strikes, sherpa strikes, cold weather, hot weather, fights over how to pronounce whether... the list goes on.
After several years of sending and losing crews, rescue crews, replacement crews, and Terry Crews (frankly we're glad he left the project before anything bad happened to him), we called off the project. Below are the scant (and unfortunately unsubstantiated) insights gained by our teams that they were able to transmit back to us—by email, SMS, homing pigeon, smoke signals, etc.—before their apparently inevitable demise.
We have incontrovertible evidence that China's rolling hills explain its tonal system; Japan is, in comparison, much flatter, and as such is pronounced sans tones.

Everyone recognizes the dangers of high-altitude ejectives—though our local experts indicate that the hazards of low-level ejectives are much greater.

We tentatively propose a relationship between various languages spoken in the Himalayas, the Andes, and the Arctic, based on the preponderance of bilabial trills in these languages.

Our initial three years of fieldwork has uncovered hundreds of commonly occurring but unreported phonation types and correlates, and our full report will be transmitted as soon as we are down the mountain safely. Here's a small sample to whet your appetite:

Dental Ingressive Fricatives—A sharp sucking in through the teeth common in high-altitude, low-temperature environments. Often accompanied by the interjection of expletives and comments on the lack of warmth. (See also the -uɠʜ suffix.)

-uɠʜ suffix—In Xeno-Pinnacle Sherpa (a creole of Pinnacle Sherpa and multi-lingual swearing spoken only by foreigners visiting Nepal), commenting on the lack of warmth has become grammaticalized in the -uɠʜ suffix, which can be applied to any word, phrase, or utterance. This is thought to conserve both heat and energy on the part of the speaker.

Cerebromensal "Click"—While not technically a click in the phonetic sense, the sound of a head hitting a table—usually due to hypoxia and overexertion—is sufficiently common that the sound has been phonologized in several Machu Picchuan dialects of Quechua. The symbol used is double-struck <ℍ>, and the only word it occurs in is "ℍ", which means, Help me, I've hit my head on the table!
Plans to investigate phenomena related to claims Everett has made about humidity and vowels have been shelved indefinitely.