ADVERTISEMENT


Available for the first time ever in one collection!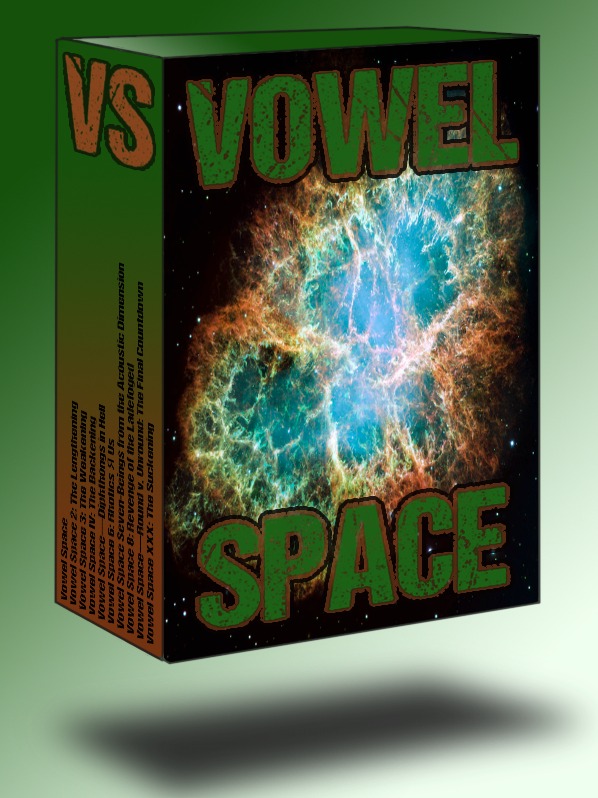 All ten films in the classic cult sci-fi comedy horror franchise are available for the first time ever in one DVD boxed set!
Come revel in the spectacle of Gnome Chornsky playing Otto Jespersen XIVth across nearly four decades in this 13-Disc collection featuring all ten Vowel Space films and three all-new bonus discs. It's the ultimate paean to this man's man, this linguist's linguist, this linguocosmological explorer's linguocosmological explorer. His desiccated sense of humor and subtle snark explode onto the screen like a nasal-ingressive voiceless velar trill.
The year is ˨ ˩ ˦ ˧, and the λʎλʎ-class light-L cruiser H.M.S. Lateral Approximant enters an unknown nebula in a little-travelled quadrant of the galaxy known as Vowel Space. There the crew encounters a force unlike anything in the known universe—a spine-chilling, soul-crushing, mind-destroying, syllable-breaking, tone-terracing, high-falling terror from a mysterious place of articulation, with an utterly incomprehensible manner.
Thus the scene is set for one of the most epic and sweeping cinematic adventures ever to grace the silver screen. No, wait, I was thinking of Philologers of the Caribbean I, II, and IV. (III was just tripe.)
Vowel Space is not so grandiose. Rather, it's a rib-cracking, head-stomping, lip-spreading good time—with more carnage per syllable than any other movie series ever made. And alien articulations abound: hexilabial trills, mandibular flaps, ocular fricatives, and old-school bone cracks punctuate nearly every scene. It's so tense your vowels will move against your will.
Special bonus swag includes mini-poster reproductions of the original promotional artwork for six of the ten films. (Psammeticus Press Films owns the rights to the other four, and the bastards wouldn't share!)
This collection features more than a hundred hours of bonus material, spread across all ten feature film discs, and three bonus discs:
The Theatrical Edition, Extended Edition, Special Editions, Director's Cut, Studio Exec's Cut, Rated-G Cut, and

Blo̝o̝d

-Raised Double-

Goːre

Cut for all ten films.
"On Set With Director M. Night Shibilant": behind-the-scenes footage of the creative process as it happens during pre-production, production, post-production, and other productively affixed productions.
Multiple commentary tracks from the director, cast, producer, dialect coach, craft services consultant, best boy, key grip, and xenolinguistics intern for each film.
Deleted Scenes, Outtakes, Gag Reels, and Stunt Highlights—including the infamous Retracted Tongue Root Stunt Catastrophe from Vowel Space Seven!
Cast, creator, and craft services interviews.
Special effects highlight reels and storyboards show the evolution of the Meta-Glottaloids from early-phase inchoative abomination to spell-out as a present perfect horror.
Interactive special features: multimedia galleries, Meta-Glottaloids phonation quiz, and the Transformational Grammatoid Game.
Prequel Digital Comics #1-100 (only viewable on Amiga 1200).
An entire disc of Vowel Space/Illuminati conspiracy videos downloaded from ÜTube and illegally included in this collection.
The Vowel Space DVD Boxed

Set Contents

Disc 1:
Vowel Space

(1976—R)

Disc 2:
Vowel Space 2: The Lengthening

(1978—R)

Disc 3:
Vowel Space 3: The Weakening

(1980—R)

Disc 4:
Vowel Space IV: The Backening

(1983—PG)

Disc 5:
Vowel Space—Diphthongs in Hell

(1989—R)

Disc 6:
Vowel Space 6: Rhotics Я Us

(1993—PG-13)

Disc 7:
Vowel Space Seven—Beings from the Acoustic Dimension

(1999—PG-13)

Disc 8:
Vowel Space 8: Revenge of the Ladefoged

(2002—R)

Disc 9:
Vowel Space—Round v. Unround: The Final Countdown

(2009—R)

Disc 10:
Vowel Space XXX: The Suckening

(2011—NC-17)

Disc 11:
Moving Around in Vowel Space—Bonus Features Disc A (Unrated)
Disc 12:
Vowel Space—Round v. Unround: Round 2!—Bonus Features Disc 2 (Unrated)
Disc 13:
Raising Ain: The Vowel Space Egyptological Connection—Bonus Features Disc III (Unrated)