ADVERTISEMENT
Do You Speak English XS?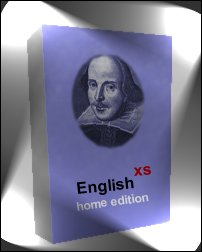 Not all companies speak your language.
When opportunity knocks, you need a company that knows how to say "Come in! Have a brandy! Let's discuss emerging markets!".
That's why we patented the English language. It was knocking on our door. And we answered.
In English.
Naturally.
Some in the West are concerned that our de facto ownership of global discourse may cause problems for communication and free speech. That is because they are commies. Nevertheless, we do not take our responsibilities as the planet's semantic hegemon lightly. We have guaranteed royalty-free access to the right to read until at least 2015. And for those who want to talk and write, we have a range of language products to suit everybody's brain. And if you don't like that, you can always go and learn Mandarin Chinese, can't you?
Welcome to the world of English XS.
BENEFITS OF ENGLISH XS
Enjoy the peace of mind that comes with a legitimate right to use English.

24-hour telephone support for when you just can't find the right word.

Tired of trying to speak other languages abroad? Call out a friendly English XS technician who will be happy to speak loudly and clearly at the offending foreigner until they stop pretending not to understand.

Why make do with a measly 26 letters when you can command a sumptuous 28? Take part in the New English Revolution by deploying (Zip) and (Ringo), a pair of robust, enterprise-class letters for the 21st century.

Enforce full-spectrum dominance over the backward peoples of the Earth.
ENGLISH XS FOR EVERYONE
For home or budget users, English XS Home Edition (£199) offers superb value for money. The Home Edition includes our 15 most popular letters as standard, and thirty minutes of talktime free if you order before the end of the month.
For businesses and those with the gift of the gab, English XS Professional (£499) offers our full range of alphanumeric characters, punctuation and funny symbols. A set of sixty accents and dialects will keep you understood from Alaska to New Zealand*. The Professional Edition also comes with a host of advanced security features, including Integrated Split Infinitive Management and French Repellant.
* Batley not included.
English XS. You Say It. Your Way.
Or we'll sue you.
---
This article was originally published at Switchback Fair. © Tom Keal. Reprinted with permission.