Meet the SpecGram Editors
In response to a decades-long demand to lift the veil of near-anonymity behind which the editors of Speculative Grammarian live, lurk, and work, we have begrudgingly agreed to provide publicly for the very first time a series of brief biographical sketches of select editors. Those editors with multiple outstanding federal warrants for their arrest on charges of morphotonemic mayhem, negligent homonymicide, and suffixual assault have been excluded, upon advice from our attorneys. Two more biographical sketches are below.
---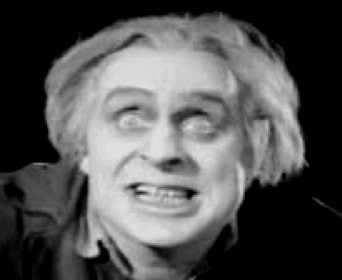 Name: William Nangishlishma Spruiell
Title: Consulting Editor
Birthdate: 12 Fleeing Weasel 15 Noise
Areas of Research: Proleptic Morphosyntax, Temperolexical Mapping, Applied Prescriptivism.

Biographic Snapshot: Although W. N. Spruiell had aspired to be a simultaneous translator and work in the area of international trade, his biological inability to produce trills rendered that career trajectory impossible, and he instead pursued an advanced degree in strategic linguistics at the Thera Institute of Foreign Studies. After the unfortunate destruction of the Institute (which event he was in no way connected with), he was forced to pursue his studies at the Carthage School, where he received a degree with distinction and worked for a time as a publications editor for the School's Italian outreach program before the School was forced, lamentably, to close because of budgetary shortfalls and local ecological problems caused by saline incursion (none of which he was connected with). An extended period of fieldwork followed, and when he relocated to the U.S. in the 1950s, he contacted SpecGram's Editorial Board to request use of one of the ancillary warehouses in Massachusetts for storing his field notes. In 1987 the Board hired him to manage the warehouse after the regional coordinator disappeared during the Goatfield Incident, and in 1992 he became a SpecGram copy-editor, making rapid inroads against some of the more barbarous comma omissions and flagrant quotation errors that certain other editors had mischievously tolerated. He became a full Associate Editor in 2000, and achieved the high rank of Consulting Editor in 2007.
Publication Highlights:
A Comparative Stylistic Analysis of Indo-European Oracular Pronouncements Concerning Sheep. London: Dee Foundation. 1952.
The Philoglossic Gazetteer: Being, a Guide to Languages for All Occasions; with an Appendix of Morphemes to Avoid. Alexandria: Mouton de Nile. Reprinted in 1972.
Terrain-Specific Procedures for Punctuation Counter-Degradation Initiatives: Identification, Intervention, Elimination. U. S. Corps of Linguistic Engineers Publishing. 1985.
"A Reinterpretation of Some Aspects of the Indo-European Expansion," Babel I.1. 1990.
All Languages Do This Except for Those that Don't: An Introduction to Parametric Typology. Alexandria: Mouton de Nile. 1997.
---
Aya Katz (July 17, 1808-March 6, 1836) was born in Palestine under the Ottomans and early on plotted with other like-minded extremists to liberate the region from its foreign oppressors. In an attempt at inclusiveness, Katz proposed that the dead language to be revived should be Proto-Semitic, rather than Hebrew. This proposal had many supporters, but none of them could agree on the correct reconstruction, and so ultimately it was rejected. Katz left Palestine in a huff, and resettled in San Antonio in 1835, in the hopes of writing the libretto for an operetta to be performed by a traveling troupe of marmosets. Unfortunately, the music was outside the normal vocal range of the marmosets, and they declined to perform it. Katz died defending the Alamo.
Her most recent contributions have been dictated to the Madwoman of Linguistics, famous Medium to the Linguists.