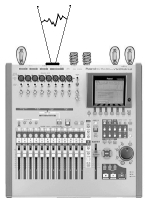 From the Department of Cheap Research
How to Have a Flashing-Zapping Machine
by Woody Ellen
How do you find out things for practically nothing? That's the essence of cheap research. But it should not look cheap. You remember that eighties movie Iceman where they thawed out a 40,000-year-old human man from an ice pack, and Victoria Fromkin showed up with a flashing-zapping machine to do a phonemic analysis? That's as big as linguistics ever got in the public eye, and it was fiction. In reality you show up with maybe a notebook and a laptop. Who's impressed with that? You look like a measly reporter.
I started to get some ideas when I was confronted by a mugger in East St. Louis. Quick as a whip I grabbed him by the ears, closed my eyes a minute and said, "Wow. Your language is related to Bengali." He said "What?" I said "Give me your knife a second." To my amazement, he did. I stabbed him in the stomach and beetled off. Look, when he found out I only had three dollars he could have killed me.
So we've got to cash in on the newest science craze. Everybody wants to know where their genes have been, and they'll pay good money for it, if they think it's science. But do they know genes from beans? No. So you get people in Idaho or somewhere and hook them up to a fancy machine and for $450 you tell them they're Indo-European. I have constructed such a machine, shown here, for $14, plus stuff I found in the basement of the engineering building. You can have one for only $20.
The machine works even if you don't plug it in; in fact, if you plug it in, you're probably doomed. Don't worry, no one will notice.
If you want to buy one of these machines, write to the managing editor of this journal. It'll drive him nuts.